A San Francisco Real Estate Broker Specializing in Loft and Condominium Projects For Sale.
This site lists for sale Condominiums , Lofts and other Premier properties along the Water Front, South Beach, and SOMA District of San Francisco. Real Estate Brokers, Developers and agents are only allowed access to general information, the bulk of the site is customized to my clients needs.
A native of San Francisco, Ed grew up roaming the streets of the SOMA, fishing off the Embarcadero Piers, competing in the annual Soap Box Derby and City-wide Yo-yo Championship, while all the time wondering if the Yerba Buena vision, then an empty lot, would ever become a reality. After a couple of decades of teaching in a Master's Degree Program at San Francisco State, conducting national social science research projects, running his own consulting firm and serving as a San Francisco Police Commissioner, Ed is back wandering the streets of the SOMA. But this time he is buying and selling real estate for his clients and has been doing so for the past fifteen years. Ed specializes and has become expert in SOMA Lofts and Condominiums.
ED CAMPAŅA, CRS E-mail: ed@somapro.com
415 840-0251
Premier Properties For Sale in South Beach/SOMA
Click for Current availability
219 Brannan Unit 5C Sold
One Rincon Unit 5204 $3,700,000
Helpful Real Estate Information

Click here for useful real estate resources.
Click for resources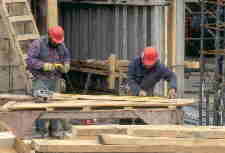 1996
Current
CLICK ON DUCKS FOR NEW
SOUTH BEACH DEVELOPMENTS

Date site last updated 09/17/2014